Remember the priest who left EWTN?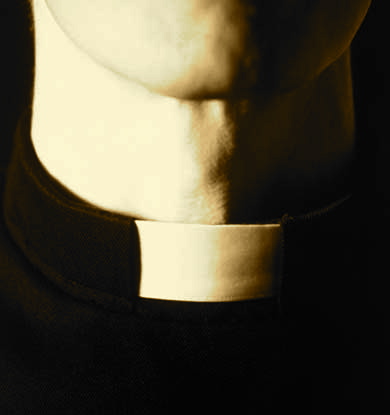 Here is his
newly formed e-company
, selling, among other things, nutritional drinks and motivational lectures. The former Fr. Stone writes:
Yes, there are difficulties - obstacles, things that went wrong, flailing bullets, regrets, call them what you will - before me. Yet, by God's merciful Providence, I have a family to care for now, a child who deserves nothing but the very best I can give him. And, I plan to do exactly that – to do what I ought to do – as natural law, the moral law, divine law, basic human decency, and common sense all dictate.
Later, he writes:
At the urging of many trusted and capable individuals, both Catholic and non-Catholic alike, I am in the middle of writing my autobiography and editing a short book containing many of the letters I've received over the past year or so. I believe the former will provide much needed context, while the latter will provide a most inspiring and encouraging resource for anyone having to work through a difficult but far from hopeless time in their life.
Although I still find the whole situation tragic, I sincerely wish
Father
Stone (
sacerdos in aeternum
, like it or not) all the best, and am glad he is at least taking responsibility for his wife and child. But I admit it was rather disturbing to read a letter posted on his website:
Dear Dave,

My name is Leo and I am a former Priest. I left active ministry two years ago (after a two year discernment process) after falling in love with a great woman who I have the privilege of calling my wife and mother to our six month old daughter.

We live in a mission country, where I was missioned to over five years. I just want to write and say that having a wife and now a daughter has filled a part of my heart that I was not aware of when a priest. Life continues, never goes wrong, but goes different than expected at times: God is also in the plan B's of life (and there are alot more plan B's than A's).

Blessings for your courage in discerning a greater truth within yourself, and the best to your wife (who is courageous as well) and family . The best of success in your newest venture, and this new exciting chapter within your life.
"A greater truth within yourself"? Goodness gracious. For those priests whose own struggles are not helped by such remarks, I suggest reading
The Sacred Heart and the Priesthood
, by Mother Louise Margaret Claret de la Touche, full of divinely inspired thoughts on the Heart of Jesus that produced and sustains for us, His children, that great masterpiece: the faithful priest.
Does the priest struggle with loneliness? Yes, and often, I would imagine. Look at Christ, after whom he is fashioned, whose life ended in desertion by nearly everyone close to Him. And He was acquainted with loneliness long before His passion:
Foxes have holes and birds have nests, but the Son of Man has nowhere to lay His head.
(Matt. 8:20) (Of course, His suffering was imbued with profound meaning: he suffered for the love of souls.) But it would be a mistake to think marriage is somehow an antidote to loneliness. Look at St. Rita, who endured an abusive marriage to an unfaithful husband, and whose sons took after their father. Consider that over half of all marriages (including Catholic ones) end up in divorce, and that of those remaining, a percentage involves infidelity, alcohol or drug abuse, addiction to pornography, or any number of serious problems. This shows that there are many lonely married people out there struggling to get by, to keep their marriages afloat despite the fact that it is a source of pain. (I should think any priest who has been in the confessional for any length of time would be well acquainted with the reality of marriage.)
It would be a grave mistake for a priest to assume running away with his beloved will bring greater fulfilment to his life than remaining right where he is. No single human being can fulfill one's need for love, whether it be friend, husband, wife, child.
Christ alone
is the antidote to loneliness, and this is true whether one is married or celibate. The single greatest mistake one can make as a married person is to expect complete fulfilment from one's spouse or from one's children. This is to ask too much, because our hearts are not created to be satisfied by human love; our hearts seek far more: infinite, divine love, and they will be satisfied with no less. The mother who expects her child to fill the void within becomes an impossibly overbearing, suffocating mother; the wife who expects her husband to fill the void within becomes jealous, selfish, and controlling. And the priest who expects human love to fill the void within, well, we see what has happened here: he rips asunder the promise he made to Christ and leaves the priesthood, and the world is left with one less person to offer the Holy Sacrifice daily for its sins, one less confessor to pardon and absolve despairing souls, one less person to model the faithful, difficult, trying,
rewarding
life of our Lord.
It may be that Fr. Stone (or Fr. Leo) is feeling happy with the start of their new lives. They were probably quite happy when first starting out as priests, too. What will it be like ten, twenty years from now? There will be along the way twinges of regret, occasional yearnings for the way things used to be, when they were celibate, devoted solely to God and to souls, and
happier than they then realized.
Our Lady of Fatima, pray for us.