Good Signs in France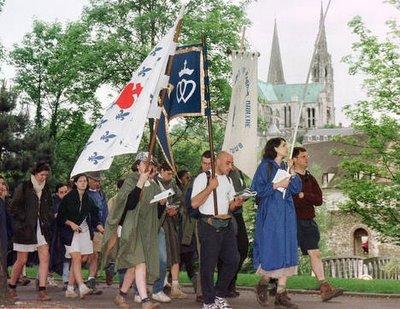 Mgr Vingt-Trois, archbishop of Paris, makes a significant gesture of welcome to traditionalists (from
La Lettre de Paix Liturgique
):
Ce « signe fort » s'est déroulé en trois temps :

1°/ L'annonce : le site de la Conférence des Évêques de France a annoncé cette visite du Président de la CEF au pèlerinage. C'est la première fois que le site officiel de l'épiscopat mentionne le pèlerinage de Chartres et c'est une bonne chose.

2°/ Le commentaire officiel concomitant : dans un entretien radiophonique disponible sur le site du diocèse de Paris (http://catholique-paris.cef.fr/), le Cardinal Vingt Trois commente cette visite à venir aux pèlerins de Chartres :

Monseigneur André Ving-Trois :
- J'ai été invité et j'ai pensé que c'était assez normal que l'Archevêque de Paris et le Président de la Conférence des Évêques participe d'une certaine façon à ce pèlerinage. Donc avec les organisateurs nous avons choisi le moment le plus opportun qui sera le dimanche soir et j'y vais d'abord pour prier avec eux puisque nous allons faire une cérémonie d'Adoration du Saint Sacrement, pour m'adresser à eux et les encourager dans leur pèlerinage…

Journaliste :
- Alors justement est-ce que c'est un signe cette visite que vous allez faire, est-ce que c'est un signe que l'unité progresse à l'intérieur de l'Église, une unité voulue par Benoît XVI qui s'est illustrée notamment par un élargissement de la forme extraordinaire du rite romain ?

Monseigneur André Ving-Trois :
- Oui je pense que l'unité fondamentale n'est pas troublée, ce qui est troublé ce sont les modes d'expression de cette unité, donc il me semble particulièrement important de manifester par un signe visible que je considère que ces catholiques, dans la mesure où ils respectent les lois et les règles de fonctionnement de l'Église, font partie de l'Église et qu'ils sont des membres normaux de notre Église. Donc je les rencontre, ce n'est pas extraordinaire.
In other significant news concerning France, as has been announced all over the web, Louis Alphonse de Bourbon (Louis XX) and his wife La Princesse Marie-Marguerite
have given birth to twin boys
.
Deo gratias. Vive le Roi.